"Then I heard the words, You are a witness of My mercy. You shall stand before My throne forever as a living witness to My mercy." (Diary, 417)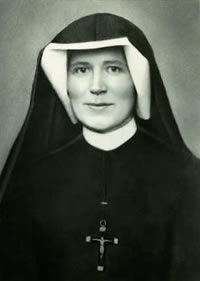 St. Maria Faustina Kowalska
Born: August 25, 1905
Died: October 5, 1938
St. Faustina - pray for us.
Help us to trust in the Lord and live every moment for Him.
When St. Faustina left this earth for her heavenly home in 1938, she left behind an incomprehensible gift to mankind - her diary. In this, we can read about God's gift of Mercy to an individual soul and to the whole world. St. Faustina's struggles were like our own and on the outside her life was ordinary. But, on the inside her soul was transformed daily through prayer and God's mercy. Through St. Faustina, Jesus commissioned a painting that would portray His mercy; it is now known as the Divine Mercy image. Jesus also taught her to pray the chaplet - for sinners, for the world. Throughout her short life, the Lord Jesus assigned her three basic tasks:
1. To pray for souls, entrusting them to God's Incomprehensible Mercy;
2. To tell the world about God's Generous Mercy;
3. To start a new movement in the Church focusing on God's Mercy.
She struggled to follow God's Will in these requests, and at times found it very difficult. But, she trusted her own soul to God's Mercy and she trusted His requests would be fulfilled even through an instrument as weak as herself. She died in great sanctity at the convent of Our Lady of Mercy in Krakow, Poland.
Click here for a more indepth biography.
Click here to read about the miracle that led to Saint Faustina's canonization!